The Capsule Machine is a "not gambling" type way to get items in MicroVolts. It includes limited edition and advanced weapons for gameplay. As well as items for each character. So far it only functions for RT but there are areas labeled "MP" and "Coins" which indicate further updates. It costs 1,000 RT per try.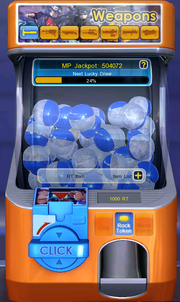 List of Capsule items
Edit
Melee Weapons
Edit
Ad blocker interference detected!
Wikia is a free-to-use site that makes money from advertising. We have a modified experience for viewers using ad blockers

Wikia is not accessible if you've made further modifications. Remove the custom ad blocker rule(s) and the page will load as expected.